You've probably seen the Income League sales video and are wondering whether you can really make $1,000 a day or if this is another misleading program that promises so much but fails to deliver.
There are so many similar programs that promise quick, easy money. You may have seen them or even tried them and wasted your money and, more importantly, your time.
In this review, you will see what's involved with Income League, and you will learn whether it's worth trying this system that appears to make money from posting tiny free ads.
Summary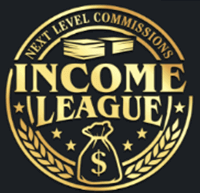 Owners: Matthew Neer and Jamie Lewis
Price: $47 downsell to $24.95
Website: https://incomeleague.com/
My opinion: A program that provides limited training on building an email marketing business using paid traffic and promoting low-quality products. Misleading sales video that makes it seem very easy to start earning up to $1000 per day. If you use the traffic sources recommended this could end up costing you a lot of money. Not recommended.
Pros
You are shown a legitimate way of making money online.
Some training provided.
60-day guarantee.
Cons
Lots of hype.
Made to look very easy.
Traffic methods shown could cost you a lot of money.
You will be promoting low-quality products to your email list. Not a good way to build an email marketing business!
Training is not complete, to get more training/resources you will need to buy the upsells.
Who is Behind Income League?
The owners of this program are Matthew Neer and Jamie Lewis, both successful marketers. But are they showing some of their secrets here to help YOU or to make more money for themselves?
Matthew Neer has been responsible for several programs, a couple I have purchased and reviewed Viral Cash App and Speedwealth Commission System. And others include Wealth Ascension System, 5K Formula System, Operation 10K, and List Leverage.
As you can see, Matthew is quite a prolific product producer. But are his products of quality, and does he use methods that you should follow? We'll find out later in the review.
Having been on his email list for a while, I do know he promotes low-quality products to his email list. For me, this isn't the best way to run an online business.
On a positive note, he is ready to put his name to his products, making a pleasant change from many internet marketers.
Jamie Lewis has been around for quite a few years and produced several programs – IM With Jamie, How to Make Quick Money Online, The Last Goldmine, Domainer Elite, and others.
I've never tried or reviewed any of his programs, so I can't comment on the quality. But I have read he is an internet marketing millionaire, so he obviously knows how to make money online. 
Jamie is also an internet marketer who is ready to put his name to his products which is nice to see!
What is Income League?
This product, from two successful marketers, shows you how to make money by placing ads online. It's made to sound very easy; whenever you want more money, you post additional free ads.
The real way this works is by driving traffic to a landing page where you collect email addresses to build a list. Once you have the email addresses, you promote products to your list, and when they buy, you earn a commission.
Your main task will be getting people to your landing page.
The Sales Video
The video involves Matthew Neer and Jamie Lewis. Matthew is the successful internet marketer, and Jamie plays a skeptical would-be investor asking questions about how Matthew makes his money.
Of course, you don't get much information about how the system really works, as is too often the case with low-quality programs. The only real thing you learn from the video is that Matthew makes a lot of money, and you see some screenshots of his affiliate accounts.
The earnings you are shown in these screenshots could come from any of the programs Matthew has on Clickbank. Many affiliates sell Mr. Neer's programs on Clickbank. So it's likely the earnings you are shown don't come from the system he is teaching here.
Whenever he needs more money, Matthew posts more of these mysterious "little ads" and only works one or two hours per day.
One thing Matthew said made me smile "We're doing this for YOU. We don't need the money."
If they are doing this for us, why do I receive several emails a day from Matthew promoting useless products? No, they are clearly doing this to make themselves more money.
They say the fee you pay is to cover the cost of hosting the landing pages, to pay the programmers and the support team.
The video has all the traits of a low-quality program – hype, little work needed, easy, testimonials that are probably false, and screenshots of earnings that don't prove anything.
As with many Clickbank products, the Income League sales video focuses on the results you might achieve and gives little information on how you will achieve these results.
Nothing that would encourage me to buy the program.
How Income League Really Works
This program teaches you a form of affiliate marketing that is a legitimate way to earn money.
You are taught how to build an email list and then market products to them.
This is how Matthew makes a lot of his money. I'm on his email list, as I signed up for a couple of his programs and receive emails every day promoting Clickbank products.
As I said, this is a legitimate way to make money online, but the problem with the way Matthew operates is that he promotes very poor programs to his subscribers.
Here is an example of a typical email I received from Matthew.
Notice the misleading title and link that take you to the sign-up page for another low-quality program.
Nothing that will help the members of his list, but he will make money if they follow his advice and buy the product.
If you want to build a successful online business, it's much better to promote products that you know are legitimate. Your readers need to have confidence in you before they consider buying the products you recommend.
After all, helping your readers should be your number one goal. Once you build trust, the readers of your blog or email subscribers will follow your recommendations, and then you will earn money.
This isn't as easy as suggested with Income League.
The Training
There is some basic training which could be quite useful for a newbie. You learn how to:
set up your Clickbank account
set up your autoresponder
get traffic through paid ads and you are given some suggested traffic sources
include your affiliate link on a sales page
Matthew also recommends some top-selling Clickbank products to promote. You may be wondering what they are?
Well, surprise, surprise, they are his own products! So to make money with this program, you will be promoting similar low-quality programs.
The other noticeable point about the training is the many things you don't get training for. For example, if you're making money from email marketing, some training on writing emails that convert is vital. They do have some models of emails, but this is an upsell!
Traffic Sources
The traffic sources recommended are:
Traffic generation software
Solo ads
Warrior forum ads
Lead generation services (low-quality ad networks)
Ad swaps
These methods are fine if you have a budget to put into your campaigns, but this can get very expensive. Many of the methods recommended will give you low-quality traffic to your opt-in page, which will result in very few subscribers to your email list.
This could be very costly for you with very little return (if any) on your investment, not the best way to start an affiliate marketing business.
How Much Does Income League Cost?
The program costs $47 with a downsell to $24.95, and then there are 3 upsells:
Unlimited Campaigns gives you access to – the best landing pages, the most successful email ads they have sent out, and a couple of done for you campaigns
Vendor Site Secrets – Jamie Lewis shows you how he built some of his different niche sites, done for you product archives provides products you can download and use as your own
Millionaire webinars – classes that Matthew and Jamie have run together
It will cost you almost $500 to buy them all!
It would give buyers a better chance of success if these upsells were included in the basic price of Income League.
There is a 60-day guarantee with the program, don't hesitate to use this if you feel the program doesn't live up to the hype. Apply directly to Clickbank for a refund; they honor their guarantees.
My Final Opinion
Income League does provide some training, but the hype in the sales video is very misleading. Making money online isn't as easy as they would have you believe.
Yes, the system they teach, email marketing, may enable you to earn some money and is a legitimate way to make money online. I've already said I consider it misleading, but there are a few other problems:
It may cost you more to make some sales than the revenue you make. Why? Because the traffic you will get from the paid sources they recommend will not be very untargeted. So you won't get many new subscribers to your email list which means very few if any sales.
You will be promoting low-quality products that won't help the members of your email list. If someone does buy one of your promotions they will probably never buy from you again because they won't trust you. Not the best way to do business!
Incomplete training. You don't get all the training you need to be successful, some extra training and resources are available but as upsells!
Because of these problems, I don't recommend Income League.
It's important to know that building an online business takes time and hard work. These quick solutions don't work. Don't be misled into thinking it's easy to make money online. Buying Income League will only make the owners of the program richer, not you.
If you're ready to put in the work, some reputable online training programs will teach you how to build an online affiliate marketing business that will be trusted by your readers and subscribers.
If you've purchased Income League or other programs from Matthew Neer or Jamie Lewis, let us know whether they brought you success in the comments area below.