EZ Bay Payday is a program that promises an easy way to make $500 or more every day from eBay.
Can you believe these claims or is this another misleading program that is just after your cash?
You may think you have found the system you need to solve your financial problems. But before going any further read my review and see what I found inside the members area.
Summary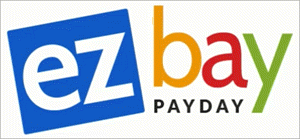 Pros: 60-day guarantee. Some training
Cons: Hype. You can find better information online for free. Misleading the program makes it sound very easy to earn money online. False testimonials. Affiliate links to some useless products that will only make money for the owner of the program.
Owner: Steve Richards (pen name)
Price: $37 downsell to $17
Website: http://ezbaypayday.com/
My opinion: You do get some training about setting up an eBay store. However, you don't need to pay for this information. Misleading sales video with promises $500 per day with only 20 minutes of work. If you want to earn money online you will need to work hard and put in much more time than 20 minutes per day. Not recommended.
Want to make money online but tired of the scams
Who is the Owner of EZ Bay Payday?
The owner of this program is supposedly Steve Richards. However, in the disclaimer at the bottom of the page, it states that the name used in the video is a pen name. In other words, you have no idea who is behind the program.
Can you trust a program without knowing the owner? If the owner isn't ready to stand behind his program you need to ask why. This is the first red flag!
What is EZ Bay Payday?
This is a website that shows you how to make $500 or more per day by using eBay. The sales video doesn't make it clear how exactly you will be earning money but they do mention eBay. So you can assume you will be selling something.
They do say you don't need any special skills and only about 20 minutes per day. These sort of programs always make it sound easy to make money online. Don't believe them!
This is very similar to some other programs promoted on Clickbank I have recently reviewed:
They all have lots of hype and some limited training! But nothing you can't find yourself for free.
The Sales Video
A typical sales video for a low-quality program. Lots of hype, a hard-luck story, false testimonials, screenshots of earnings, pressure tactics, and you're not really told what you will be doing to earn money.
Hype
Crazy earnings claims. You only need to spend 20 minutes a day, the system works on autopilot.
The claims we see so often, these guys are out to make money not to help you. They create product after product and promote them on Clickbank. Once you're on their email list you receive recommendations to buy other "incredible programs" several times a week.
A secret system
There is no secret system! If you want to make money from eBay you will have to learn and put in the work.
Steve does list the steps you need to take to use the "system".
Login
Pick a product to sell
Connect your EZ Bay Payday cash magnet – I've been through the training and I have no idea what this is!
Make money
All you get is some limited training in the members area.
Testimonials
The testimonials are from actors you can find on Fiverr. Unfortunately, this is often the case with these low-quality or scam programs.
Just to confuse things further the disclaimers are from users of Easy Insta Profits and related products.  
The only thing the testimonials say is that they made a certain amount of dollars. There is no reference of how they made the money or what program they used.
This means the testimonials can be used over and over for different systems. The testimonials are of no value whatsoever and they're not even from users of EZ Bay Payday!
Pressure tactics
Another often-used trick by the scammers is pressure tactics. EZ Bay Payday is no different.
There are only 20 places available and after that, the program will be closed. This isn't true I have seen the video on different days, there are still 20 places and the program is always online.
The EZ Bay Payday Members Area
Judging from the sales video I was certain the program wasn't worth joining. To give an accurate review I signed up to see what was actually offered.
What I found was some limited training, recommendations to join other programs, or create a free website.
Everything recommended is there for the owner of the program to make money with affiliate commissions. He is not interested in you making money.
Here's what you will find in the members area.
Step 1
Watch the welcome video that shows you what's included in EZ Bay Payday program and I think you will be disappointed. There were a couple of things I particularly didn't like – the free website and a warning about claiming a refund – more about these later!
Step 2
Register for the VIP members workshop. This is a video from John Crestani a well-known internet marketer.
Step 3
Activate your free website. Many low-quality programs offer these free websites. The websites are from Coolhandle a hosting provider that has many complaints.
The website won't be free at all you will have to pay for hosting. The website has apparently been designed to work with the EZ Bay Payday system and normally these websites have a value of  $2000 and you're going to get it for free!
This is just a trick to get you to sign up for the hosting. The owner of EZ Bay Payday will make money if you do sign up as he is an affiliate for Coolhandle.
Step 4
Sign up for EZ Bay's highest recommended product which turns out to be CB Cash Code. Another Clickbank product they are recommending. Again the only reason they are this is to get more affiliate commissions.
EZ Bay Payday Course
After all these different steps you finally get to the EZ Bay Payday Course. The course is made up of 11 modules. Each module contains 1 or more videos. Many of the videos only last 1 or 2 minutes.
Let's see what information they contain!
Module 1 (3 videos)
An introduction video. The presenter is a lady named Toni who is apparently a successful eBay drop shipper who is going to teach you all she knows about dropshipping. Income proofs from the presenter. Goes over what you will learn in the course and what you need to be successful
Module 2 (3 videos)
Answers some questions what is eBay, why use eBay, and what is dropshipping.
Module 3 (2 videos)
What is PayPal and why you need a Paypal account. How to set up your PayPal account.
Module 4 (4videos)
Creating an account with eBay. Setting up your eBay business policies. Set up your store's preferences. Choose a name for your eBay store.
Module 5 (2 videos)
Choosing the sources for the goods you will sell in your eBay store. Some tips on how to choose a source.
Module 6 (4 videos)
How to find profitable items to list.
Module 7 (3 videos)
Listing the products you are promoting on eBay and using software that will make listing products easier.
Module 8 (1 video)
All about optimizing your title.
Module 9 (3 videos)
You've made your first sale. Where to find notifications of this sale. How to use cashback websites to make a little extra cash. How to fulfill international orders with the eBay shipping program.
Module 10 (1 video)
Tracking matters and helps to keep your buyers happy.
Module 11 (1 video)
How to get the tracking number for a package and upload the tracking number to eBay.
There is meant to be at least one more video but it's not available on the EZ Bay Payday website.
It looks like they haven't bothered to complete the program.
There's More in the Members Area
Just to make it look like you're getting great value,  EZ Bay Payday add 4 other money-making methods.
Although these are legit methods of making money online the information you get is just enough to get you interested. If you want to go further do further research.
Make money taking surveys on your mobile phone. Surveys are in general a waste of time, lots of work for very little.
Earn money testing websites with User Testing.com. This is a legitimate way of making money online but you will only earn a little extra cash each month.
Make money as a freelancer.
Other fast cash money making methods. There is nothing in this section. Another sign that the program isn't finished.
My opinion of the training
Overall the training is very basic and doesn't go into much detail. It leaves you with the impression that it's not even finished. Therefore, it could certainly be improved.
Not being an expert on eBay I did learn one or two things. But as is so often the case with these courses, you can find all the information in the program free online.
If you're thinking of starting an eBay dropshipping business it's worth taking your time to research the basics before getting started.
Free Resources
Visit the eBay Seller Center there are instructions on getting started, listings and management, running your store, shipping, service, and payments. EBay also has a help center where you can search by keyword.
You will also find tutorials or how-to's on YouTube from successful eBay sellers. You can learn a lot from some of these sellers.
Search on Google and you will find many blogs or websites on dropshipping.
Or if you are willing to pay a little money, I've read some good reviews for an online drop shipping training course, eCom Elites.  It's more about setting up a dropshipping store on Shopify but you will learn many things that will be useful to you as a drop shipper.
How Much Does EZ Bay Payday Cost?
The program costs $37 with a downsell to $17. It looks like there may be some upsells but I didn't have to go through the upsells which is strange.
You will find the upsells again, at the bottom of the members area but don't bother with them they are there to make the owner of the program richer and not you.
There is a 60-day Clickbank guarantee. If you want your money back go directly through Clickbank don't bother to contact the support email address in the members area.
My Final Opinion
I don't recommend joining EZ Bay Payday. It's a very misleading program that makes it look easy to earn good money with very little effort.
Perhaps it's not a complete scam as they do provide some information but if you want to become a seller on eBay you find can better information online for free.
Everything in the program is set up to make money for the program owners. You do get some limited training but this probably won't help you to earn any money.
Remember there is no secret system for making money online, you need to put in the effort and work hard. Don't waste your time and money on these low-quality get rich quick programs.
Making money online is possible, dropshipping can work, or in my opinion affiliate marketing is better.
Whatever you do, educate yourself, with free or paid resources. Read about my favorite affiliate marketing course.