I was sent a link to the VO Genesis program in my daily spam. When I saw the name I wondered, what is VOGenesis?
I know genesis means origin or the beginning of something but I was perplexed by the VO.
So I thought I'd take a look to see what this program with a strange name was all about. I signed up and went through their training.
In my VOGenesis review, you will see what you get and whether it might help you to earn money online from home.
Summary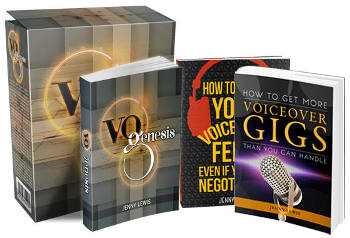 Owners: Jenny Lewis (a pen name)
Price: $97 with downsells to $19.95
Website: http://vogenesis.com
My opinion: Hype and misleading earnings, made to sound too easy although there is some useful information. However, no need to pay, the same info can be found for free with a little searching.
Pros
some useful information
possible to earn money as a voice-over artist
60-day guarantee
Cons
lots of hype with misleading earnings claims
the same information can be found online free of charge
Who Are The Owners?
You are led to believe the owner of this program is Jenny Lewis. The real owners of this program are Success Vantage Pte Ltd from Singapore. They also own the TubeLoom program that I reviewed a while ago.
They have a portfolio of different programs in personal development, business opportunities (VO Genesis falls in this category) and health offers. If you give VOGeneisis your email address you will get several emails a week about health-related offers.
Although these programs aren't the highest quality, they are promoted through Clickbank which means it should be possible to get your money back if you aren't happy.
What Is VO Genesis?
VOGenesis is a course to learn how to do voice-overs and also where to find voice-over jobs. The VO stands for voice-overs.
What is a Voice-Over?
A voice-over is when you hear a voice speaking but you don't see the person who is speaking. It is an audio recording performed by a voice actor or talent.
Some examples of where voice-overs are used are cartoons, documentaries, radio or television commercials, video games, narrators for audio books, dubbing films in foreign languages, telephone messages or the voice of a GPS.
Who Is This For?
To do well in the voice over industry you need a good voice and ideally some acting abilities. Although if you use your voice for some aspect of your work you could make a success of voice-overs.
You will also need some technical skills to set up your recording studio, then be capable of recording and editing your work.
Another point to remember is that you will be running your own business. You will need to do everything from marketing your business to being the voice actor.
The VOGenesis Sales Video
The sales video contains the usual hard luck story and then happiness when Jenny Lewis finds a way of making money online.
There is hype, saying it's easy for you to make $300, $500, $1000 or even $1500 for a couple of hours work! Worst of all they state you can start earning immediately.
Then there are the testimonials with statements like "On my very first day I was able to make $320 and all it took was 25 minutes of work."
While it's true some people may have some natural skills or acting experience, the websites that deal exclusively with voice-over jobs, recommend getting some training with a voice coach, regardless of your experience. So it's very unlikely you will earn money like this on your first day.
Voice.com, a company that is in the voice-over niche, give some examples of the sort of earnings you could expect – $100 for a 15-second recording, $250 for a 30 or 60-second commercial and about $3000 per audiobook. This is good money but how many jobs can you expect to carry out each day?
While some people do make a good living from doing voice-overs, of course, it's not as easy or as fast to make money as VOGenesis would have you believe.
What You Get
The program is made up of a PDF ebook and 15 videos.
The PDF Ebook
The ebook is broken down into 6 chapters:
What Types Of Voiceover Work Can I Do?
Developing Your Skills As A Voiceover Artist
The Voiceover Industry
Your Voiceover Demo
Building Your Own Home Studio
Recording And Editing Your Voice Over
The ebook of 93 pages does provide some good information that could help you get set up as a voice-over actor.
The videos
The video section contains 15 videos broken down into 5 modules. The videos are quite short the longest being around 8 minutes but most are only 2 or 3 minutes long. Here's a quick look at what you can expect.
Module 1
Jenny shows you how to sign up for freelancer.com and make a bid for a voice-over gig.
Module 2
The next video deals with the basic equipment (a mic) you need and goes through the process of setting it up for recording your demos with both Windows or a MAC. They also emphasize that there should be no background noises.
Module 3
Moving on to the third video you discover what kind of demos you need to record. You need different 4 tones:
Natural speaking voice
Commercial voice
Narrator voice
Selling voice
You get tips to make each of these demos.
Module 4 (5 videos)
Now you know about the kind of demos you need you will now require some software to record and edit your videos.
The videos in module 4 recommend installing Audacity as your recording software and go through the process of setting it up and using it. This includes:
Removing background noise and the sound of you taking breaths as you read your text
Editing or trimming your recordings
Using the equalization tool to improve the sound of your voice
How to export a file and in what format, Jenny recommends WAV
Module 5 (7 videos)
This module is about taking your demos to the next level with tips on how to win more voiceover auditions. These tips are:
Emphasize the right words
Using the "sweet spot", drawing emotion from the listener. Know what emotion you want the listener to feel and put these emotions into the "sweet spot".
Be yourself, speak as if you are talking the type of person your script is targeting
Increase intensity, be calm when you read, use a quiet voice this will make it easier to add intensity to the important parts of the script
Use a "whisper" this will give your audience the feeling that they are getting some secret information
Breathing, take a breath where there are commas or periods
 A few more tips such as – don't emphasize pronouns, put the emphasis on the nouns or you want to sound authentic and not like you're trying to sell something
What Do I Think Of The Training?
As with so many of these programs, VOGenesis provide some elementary training and advice. It is possible to find all this information and much more for free online.
Having said that they do provide some useful information, I found the PDF ebook more useful than the videos. The video training is very basic.
The sales video makes it seem very easy to start earning money right away. Unfortunately, this isn't true.
Doing voice-over work can be a good way of earning money online but don't go into it thinking it will be easy. If you want more realistic information on getting started in the voice-over industry read this post on the Voice Bunny website or take a look at the beginner's guide to voice acting on the voice.com website.
This free information gives you more detailed information than VOGenesis. Some interesting points they raise include:
You will spend a lot of time getting into the voice-over industry
To be successful you will have to spend money on training, professional recording equipment, demos and marketing
They recommend taking a class at your local theatre, volunteer to read in your child's school, take some online classes and listen to other voice actors
Find a voice coach who will let you use their equipment to record your demos. This will cost money but they will also give you some feedback and advice. This will save you the expense of buying your own equipment and setting up your home studio
When setting up your home studio, consider the soundproofing it as important as the recording material
Some of these important points weren't mentioned or hardly mentioned in the VOGenesis training. Nonetheless, with the right approach, it is possible to earn money doing voice-overs.
Pros and Cons 
Pros
Some useful training provided
Voice-over work is a legitimate way of earning money online
Cons
Hype, making money with voice-overs is made to sound too easy
Video training is very basic, you can find more detailed information online for free
Upsell VOGenesis Accelerator Ebook $37 (downsell to $17) – this probably won't get you much further
Link in the PDF Ebook to a website that no longer exists
The jobs or websites that might have jobs are very few
Price
VOGenesis is advertised at $97 but when you click to leave a couple of times the prices comes all the way down to $19.95.
There is a 60-day guarantee.
My Final Opinion
VOGenesis is not a scam as they do provide some training and there are some tips in the PDF ebook that are useful and links to some websites that will help you.
However, I don't recommend this program. A program that has hype like this puts me off. I have the feeling they are just after your money.
While it is possible to earn money doing voice-over work, the amounts stated in the sales documents are misleading. Also, they give the impression if you buy the course you can start earning money quite easily. This isn't true!
You will need training and experience before you can start earning the sort of money they talk about.
In addition, there is no need to pay for this information there are websites that provide the same information for free.
VOGenesis promise to give you the top websites to find the best-paying jobs and tell you where to find loads of jobs with little competition.
The only link I can remember seeing was to freelancer.com. They only give some addresses where you can register your name and demos, to receive job offers when they arise. So for finding work, they don't deliver on their promises.
Voice-overs seem to be quite a lucrative way of earning money online. According to payscale.com the average voice talents earns $40.69 per hour.
Other voice-over websites may be better
If you want to give voice-over work a try, I would take a look at some of the websites that deal exclusively with this form of work, all day every day. Many have getting-started articles, advice and often jobs.
Or even better, if you aren't sure if voice-over work is for you then there are some classes that will evaluate your voice and tell you honestly if you should continue down this road.
Although these classes may cost a little money, $99, which is more than VOGenesis, in the long run, it could save you time and money buying equipment, soundproofing your studio, paying a coach etc.
Always remember making money online takes work and time. Don't believe the hype from these programs in the make money online niche that promise you easy riches.
If you've had any experience with voice-over work or with VOGenesis, let us know in the comments area below.