Jaaxy Review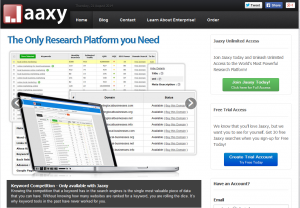 Product: Jaaxy
Overall Ranking: 98 points out of 100  5/5 stars
Price: 3 different prices: free trial with 30 searches, Pro $19 per month, Enterprise $49 per month
Owners: Kyle and Carson
Website: http://www.jaaxy.com 
If you're involved in any form of internet marketing, you will already know how important it is to find the right keywords. Also, you will know how time-consuming this can be, this is where Jaaxy can help you.
Jaaxy is the most up-to-date keyword research tool available with a lot of features that other keyword tools just don't have.
As we have already said keyword research is essential to any website hoping to get free traffic from search engines and there are many keyword tools available. But, which is the best?
In my Jaaxy keyword tool review, I will show you why I consider it as the best tool for your keyword research.
What is Jaaxy?
Jaaxy is an advanced keyword research tool with more features than most of the other keyword research tools that are available. With Jaaxy you can have a list of possible keywords in a matter of seconds. To assemble the same list manually would probably take a few hours.
With Jaaxy it is possible for anybody to find keywords that will drive high volumes of traffic to your online business.
Who is Jaaxy for?
It is ideal for anyone who does keyword research periodically, or on a daily basis. Jaaxy is great if you need to find good keywords, save time and get accurate data for your keywords.
Although you get a lot of information with Jaaxy it is easy to use and is suitable for someone just starting out in an online business or for the more experienced internet marketers.
The Pros and Cons
Pros
Free trial with 30 searches for keywords
Easy to use
Accurate competition data
Keyword quality indicator
SEO power
Delivers outstanding results
Makes use of data from all the search engines
Verify your ranking in the search engines
Get domain name availability
There is a Jaaxy affiliate program
This is an online software there is nothing to download. Which means it can be accessed anywhere there is an internet connection.
Cons
Maybe too expensive for someone starting in internet marketing.
The training and tools
The training is basically made up of a few videos explaining some of the different functions in Jaaxy.
Although Jaaxy is a keyword research tool it also has several other features.
Keyword research
Getting good keywords is what Jaaxy is all about. You will discover which keywords get the most traffic and which ones you will rank for most easily. There is a lot to cover here, so this will be explained in more detail below.
Keyword Lists
As you will have more keywords than you need you can keep them in handy lists inside Jaaxy.
Site Rank
You can check the search engine ranking for your site.
Competition
You can see if your keyword has any competition on sites such as YouTube, Vimeo, Flickr, HubPages, and others. For instance, if there is no video on YouTube for your keywords you could/should go and make a video.
Website SERPS
This will give you the top 10 results for your target keyword in your chosen search engine. For each result, you can see data related to their page: title, meta description, word count, keyword density, backlinks, Google page rank…
Affiliate Programs
This feature searches the affiliate networks Link Share, Zanox, Digital River and ClickBank to see if they have any affiliate programs that match your keywords.
Brainstorming
If you are researching a new niche and need a few ideas this may help. You will find a list of popular topics being searched on websites such as Twitter, Yahoo, Google, and Amazon.
The main tool in Jaaxy – the keyword research
This is what Jaaxy is all about – keyword data.
When you research a keyword your results will be on a page with several columns that look like this.

This is the information the different columns will give you:
Keywords – your primary keyword plus 29 other targeted results
Monthly Searches – this gives you the number of monthly searches for each keyword result.
Estimated traffic – this will tell you how much traffic you can expect if you are on the first page of the search engines.
QSR (Quoted Search Results) – this is the competition for the exact keyword or keyword phrase. Try and keep this under 400, better still under 300.
KQI (Keyword Quality Indicator) – this color system gives you an overview of all factors related to the keyword. Green means it's a good keyword with high a very good chance of ranking. Yellow is an average keyword and red means don't use this keyword there is too much competition.
SEO Power – tells you how easily an optimized page or post will rank. Longer keyword phrases generally have a higher power than short keywords because they are more precise.
Domain Search -this will tell you which domains are available for a specific keyword or keyword phrase. Exact match domains still rank well in the search engines, despite the recent updates.
To Do – a convenient way to add keywords to a to-do list
Related keywords – here you can see keywords that are related to your original search
The video below will give you an overview of what Jaaxy can do.
When doing keyword research the 3 most important things you should consider are:
Your keywords should make sense.
The number of monthly searches that the keyword gets. This should be a least 50.
The competition, how many sites are competing for your keyword. Go for any keyword that has a competition of under 400. The lower the better, the less competition there is the easier it will be to get a first-page ranking.
Here is a keyword research I carried out (Jaaxy related) and you can see some of the results.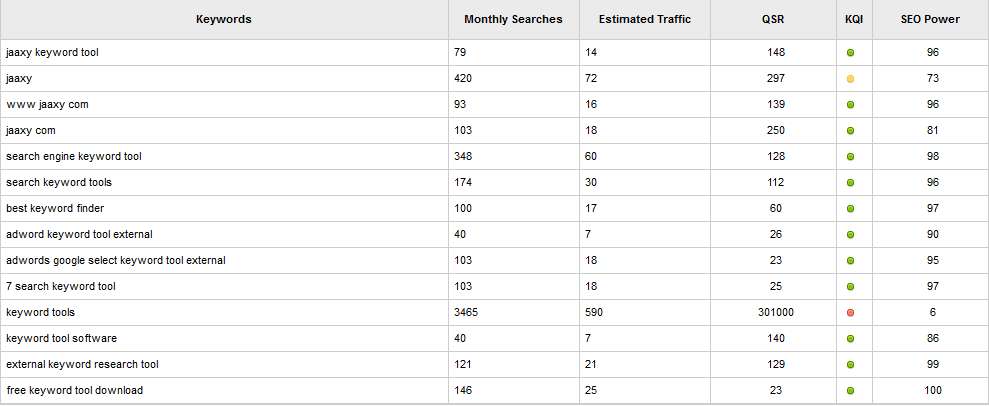 Help and support
The support in Jaaxy is good. There is a contact us button on the home page and they usually reply within 24 hours.
It is also possible to get help from the Wealthy Affiliate site where there is a community of online marketers who are always willing to help or you can leave a message for Kyle or Carson on their profiles.
How much does it cost?
One of the good things about Jaaxy is that you can try it for free. You have 30 searches to find out if it's for you.
There are two subscription prices:
Pro $19 per month
Enterprise $49 per month
You can see in the chart below what is included in each of the different subscription plans.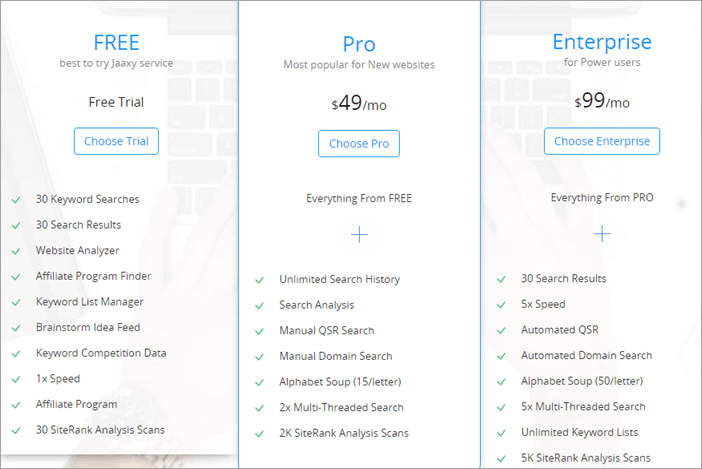 Update
Jaaxy 2.0 was released in October 2014. Including some extra features to make it even more efficient. It's great to see a company that is prepared to invest in improving an already excellent tool.
Here are some of the updates:
Alphabet Soup Technique – now you can accomplish an alphabet soup search directly in Jaaxy. This will save considerable time and you can save the selected keywords.
Search Progress Bar – when searching for keywords, you will see how your search is progressing. The search speeds have also been improved, for most searches the search time is just a matter of seconds.
Search analysis now uses Google, Bing and Yahoo – it is now possible to research a keyword in either one of the main search engines.
Site Ranking History – when you check your site rank for a specific keyword in Jaaxy you can now see if your rank is going up or down. This lets you know if any tweaks you have made to your site have been fruitful or not.
Server power has been increased – Jaaxy now works faster than ever, infrastructure and server improvements enable Jaaxy to perform up to 8x faster!
My final thoughts on Jaaxy
Jaaxy is a really great keyword research tool that is also capable of performing additional tasks and getting extra information that the majority of other keyword tools on the market just don't do. This a tool that can save you a great deal of your valuable time, it's easy to use and the results it gives are really accurate.
If you are unsure about subscribing to Jaaxy just try it for free. I am sure once you try it you won't want to be without it.
Jaaxy Online Keyword Tool Overview
Summary
Owners: Kyle and Carson
Price: 3 different prices: free trial with 30 searches, Pro $19 per month, Enterprise $49 per month
Description: Jaaxy is an excellent keyword research tool. Gives you lots of good data to find those low competition keywords that enable you to rank well in the search engines.
Website: http://www.jaaxy.com
Hopefully, my Jaaxy keyword tool review has helped you make a decision on whether Jaaxy is the best keyword tool for you.
If you have any experience with Jaaxy, I would love to hear about it. Any questions or comments about this review are also very welcome.
Have a great day,
Peter